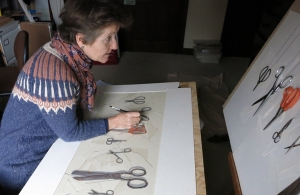 Biography:
Lillias August (b1955) studied Fine Art at Goldsmiths College in London (1973 – 1976) followed by a postgraduate course in The History of Art and Design. She has exhibited widely, receiving several awards at the Royal Institute of Painters in Watercolour (RI) before and since her election in 2006.
Lillias has undertaken many private and public commissions over the years. She was appointed project artist during the Suffolk Cathedral Millennium Project during the building of the new central tower at St Edmundsbury Cathedral in Suffolk during which she was awarded an Arts Council England grant to tour her series 'Cross' to regional Cathedrals. She has since followed the construction of the fan vaulted ceiling.

Artist statement:
I am a committed water colour painter, continually exploring the effects of both applying and lifting the paint and enjoying the tension between control and chance. I find an uncompromising strength in ordinary subject matter. From the understated landscapes of the fenlands to the raw details of a building site, it is often the 'anonymous' rather than the 'picturesque' that steal my heart. I have recently been concentrating on still life paintings where ordinary well-used objects are laid out for inspection like specimens of everyday life. I have no doubt that the open and honest landscape of my local East Anglia has influenced this direct and analytical approach.