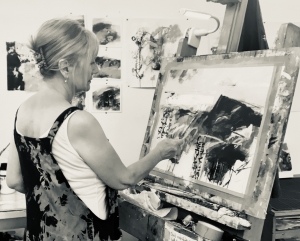 Mari French is an abstract mixed media artist. Her work is particularly concerned with the liminal landscapes of coastline, salt marsh and moorland. The roots of her paintings lie in her deep-seated affinity with landscape and weather, capturing the elemental forces of these wild landscapes. She sketches on location but in the studio is an intuitive and experimental painter working from memory, using a variety of media, including acrylics, ink and collage, to evoke her experience of a
place.
Mari's confident use of layering and markmaking creates a rich surface history, while a limited palette gives harmony and coherence, resulting in work that stands alone but still owes a debt to its subject. Her design background sometimes emerges in her work through strong composition and use of typography.
Mari was born in Manchester and studied art and design in the 1980s, followed by a career in graphic design. She later spent 15 years on the Isle of Skye developing her abstract landscapes. Now living in Norfolk, she works as a full-time artist from her studio on a 1930s RAF airbase. Mari French was elected a member of the Royal Institute of Painters in Water Colours in 2022.
Selected exhibitions:
Royal Institute of Painters in Water Colours, Mall Galleries.
Royal Watercolour Society, Bankside Gallery.
Sunday Times Watercolour Competition, finalist, Mall Galleries.
Artist & Illustrator Magazine, Artist of the Year, finalist, Mall Galleries.
Highgate Contemporary, London.
Gallery Different, London.
Cricket Fine Art, London.
Gallery East, Woodbridge, Suffolk.
Little Buckland Gallery, Broadway.
Babylon Arts, Ely, Cambridgeshire.
Grapevine Contemporary, Burnham Market, Norfolk.
Thompsons Gallery, Aldeburgh, Suffolk.
Cley Contemporary 16, North Norfolk Exhibition Project.
Mari has exhibited in galleries throughout the UK and at the Affordable and Fresh Art Fairs. Her
work has been the subject of articles in publications including Artist & Illustrator magazine, The
Artist Magazine, The Woven Tale Press, EAVA zine. Her work is held in private collections
worldwide.