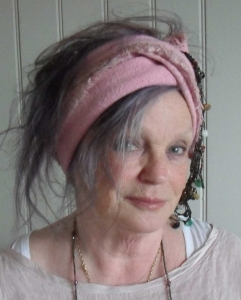 Mary Mahler is an artist living in Felpham on the South Coast of West Sussex. She studied Fine Art and Goldsmithing at the Central School of Art and Design (now Central St. Martins), London. For many years she had her own workshop designing and making pieces on commission, winning awards from both DeBeers and Goldsmiths Hall.
Her lifelong ambition was to become a painter and after only two years as a professional artist was invited to put her name forward as a candidate for membership of THE ROYAL INSTITUTE OF PAINTERS IN WATER COLOURS and a year later was elected a member. That was in 1981 and at the time she was the youngest woman to be elected.
She has exhibited in Germany, America and Australia but mainly in the UK in shared or one man shows at two major galleries being Manor House, Chipping Norton and Medici, London. The majority of the first twenty years with the RI was spent exhibiting paintings and, as a council member, hopefully helping to steer the institute into the twenty-first century. Part of her time on the council was as their treasurer, but in the year 2000, Mary decided after twenty years of exhibiting in major shows it was time to step back for a while and take a sabbatical; she felt the need to re-evaluate her approach to painting without the distraction of putting her work on show.
During her career she was commissioned by the Sultan of Oman to paint botanical subjects for one of his palaces and was invited to meet His Royal Highness the Prince of Wales to discuss her work. Mary has written many articles on watercolour and water-soluble media for The Artist and Leisure Painter and was a consultant with leading pencil companies Faber Castell, Derwent and Rexel in their development of the water-soluble pencil. She is also involved with artefact restoration where paint, pigment or grounds are involved, whether it is hands on conserving an old pre transitional, timber framed house or repairing a rare fragile early rocking horse.
"I've always needed to know how things work by taking them apart and putting them back together again be it an artefact, old building, or my beloved watercolour. Painting is a part of me, it's my sanctuary, my salvation and has been by my side since I was very small.
I admire the fragile translucency of traditional watercolour and use the opacity of differing water-soluble emulsions for its enhancement. It's exciting pushing paint to its limit and embracing the unexpected."