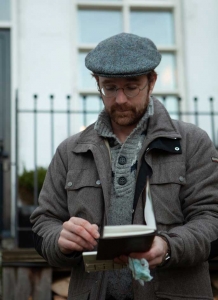 Matthew Phinn was born in Yorkshire and studied Fine Art at the University of Leeds and the University of California. He went on to spend six years as an artist-in-residence in Japan and Bermuda. In 2021 he was elected as a member of The Royal Institute of Painters in Water Colours and has often exhibited with other major venues such as The Royal Society of Marine Artists and The Royal Institute of Oil Painters.
Since 2011, Matthew has been a permanent member of the Japanese Watercolour Society and was elected a senior member in 2019.
He now divides his time between London, Yorkshire and Hiroshima.
"In my work I try to focus on the use of gestural, almost abstract brushwork, contrasting with areas of detail and direct observation. I love the constant fight to control the medium of watercolour, while keeping the painting fresh and expressive".
Awards:
2006 International Culture Prize. The Japanese Watercolour Society
2012 Winner of The Bath Prize
2015 The Matt Bruce RI Memorial Award, RI Annual Exhibition, Mall Galleries, London
2017 The Anthony J Lester Art Critic Award, RI Annual Exhibition, Mall Galleries, London
2019 The Neil Meacher RI Award, RI Annual Exhibition, Mall Galleries, London
2021 Winner of The Buxton Spa Prize