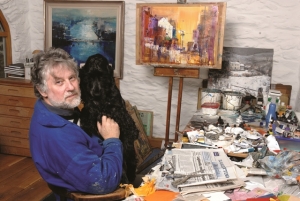 "My initial starting point is to collect on the spot sketches, subjects will vary from harbour coastal scenes to street and market scenes and occasional still lifes.  I am selective when describing detail, I want to portray only the essence of the subject.
Back in the studio I start my paintings, (surfaces can include, paper, board and canvas),   with layers of paper collage, newspapers, tissue, leaflets, magazines etc, glueing with acrylic medium.
I create shapes which relate to the abstract structure of the subject.  When the glue is dry, I apply acrylic ink in bold random strokes which encourages wonderful colour and textural 'happy accidents'.  From this state of chaos I endeavour to definite the subject through various drawing techniques, to a finished stage where the subject has   recognizable passages, but at the same time retain a semi- abstract, impressionistic feel, engaging the viewers imagination.
I now paint almost exclusively in mixed media, combining collage, acrylics and pastel.  I enjoy the way textures, shapes, colour and 'happy accidents' steer the direction of my paintings.  My favourite subjects continue to be harbour scenes, market and street scenes both in Britain and abroad."
Born 1957    Dover Kent England.
TRAINING
1974 – 75                Foundation                            Medway College of Art and Design.
1975 – 78                BA Hons in Fine Art            West Surrey College of Art and Design.
1978 – 81                Post Graduate Studies           Royal Academy Schools, London.
1997               Elected to the Royal Institute of Painters in Watercolours.
AWARDS
Elizabeth Greenshields Fellowship 1981 and 1987  (Royal Academy)
David Murray Studentship 1978/80/81  (Royal Academy)
1st Prize Stowells Trophy 1981 (Royal Academy)
British Institute Prize (Royal Academy)
Lanseer Prize (Royal Academy)
Highly Commended Award 1990 Silver Longboat Exhibition, Portsmouth City Art Gallery.
Laing Landscape Painting Award 1993
Kingsmead Gallery Award 1999
Stuart Defries Award 2003
Lincoln Joyce Gallery Award 2007
The Ranelagh Press Award  RI  2009
PUBLICATIONS
"Collage, Colour and Texture in Painting"  by Mike Bernard & Robin Capon  Published 2010
Artist Magazine
International Artist
Leisure Painter
Included in numerous books and articles
Mike Bernard RI exhibits in fine art galleries world-wide.