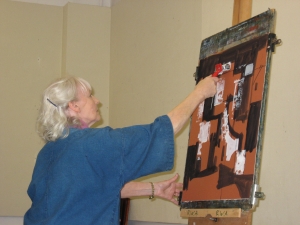 "I never travel anywhere without a sketch book, it is essential in providing a fund of ideas and information for future paintings. The idea of recording travels with a sketchbook is not new, in the 18th century it was fashionable to take the grand tour and make many topographical drawings and watercolours. Turner undertook many sketching tours, and in those days transporting equipment was fraught with difficulties. Today we have it easy and can travel far and wide.
I work in the studio from keenly observed 'on the spot' drawings, my paintings are often capriccios, that is, paintings inspired by more than one source of information.
My paintings portray places that particularly appeal to me visually, and also have a connection with my past. Spain and Portugal are associated with early childhood memories, I lived in Spain until the outbreak of the civil war, when my family and I escaped to Portugal, and my first holiday when we returned to Britain was to Wales, an ancient land full of atmosphere and a variety of landscape. I visit at least once a year to seek out stone cottages, slate fences, old gates, chapels, green valleys and the grandeur of the mountains. In contrast, the architecture of Spain and Portugal with its overhanging colourful pantile roofs, distinctively shaped white chimneys, stone stepped narrow streets, decorative balconies, beautiful churches and colourful boats provide yet another visual feast. "
Born in Motherwell  Scotland 1932
Studied in London at Harrow School of Art and Hornsey College of Art.
Holds a London University degree in Art Teaching
Past President of The Pastel Society
A Royal West of England Academician
Member of the Royal Institute of Painters in Watercolours
Member of the Royal Society of Marine Artists
Past Governor of the Federation of British Artists
Has received many prestigious awards, and exhibited extensively in both solo and group exhibitions in the UK, Europe and North America
 Commissions & Collections include:
Alcoa International Inc.  British Telecom,  Clwyd CC,  CWS Ltd,   Hampshire CC,  Consumers Association,  Laing plc,  Newsweek International,  National Museum of Wales,  Nuclear Electric,   Proctor & Gamble, Royal Bank of Scotland, Royal Caribbean Line, Whitbread plc,  etc
Moira is the author of several books on drawing and painting
'Sketchbook Secrets' is her latest book, published by David & Charles in the UK and F&W Publications Cincinnati in North America.