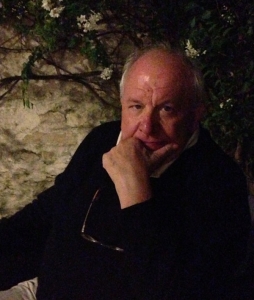 Born in Meriden, Warwickshire 1944. Studied at Coventry College of Art, followed, in the mid-1960s, by post-graduate study at Liverpool College of Art. Academic posts have included Head of Putney School of Art, London; Dean of Sir John Cass School of Art, London; Vice Provost London Guildhall University.
Elected member of the Royal Institute of Painters in Water Colour 2002
Artist's statement:
Colour is all-important in my work. When I look at the world, it is colour and movement that excite me most: the glint and flicker of light through trees, sunlight on shingles, evening sunsets, fairgrounds, harbours, etc. My work is both representational and abstract. While the representational works evoke atmosphere and space through both gesture and colour, I try to make a visual equivalent, rather than a depiction, that can communicate something of the sensations evoked in me by what I see.
The more abstract colour-field paintings concentrate more on the relationships between colours. In them, I am trying to distill my visual experience to its essence.
My work is mainly in watercolour with white gouche. using not only brushes, some very large, but also paint scrapers of all kinds and sizes.
My paintings are in private collections in Britain, France, Spain, the USA, Hong Kong and Australia.
Publication: Introduction to Drawing (Arcturus, 2004).