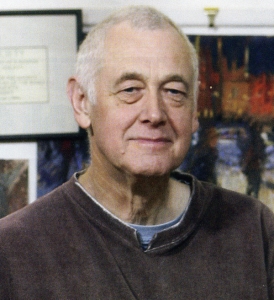 Painting for me is about personal development. It is an on going process never to be settled, always being inspired by another aspect of my painting, particularly paint surface and mark making. The journey is from the paintings concept to final end result.
My subject matter remains as always about people and their environments, their body language, whether in bars, interiors, markets, restaurants etc, but in recent times my interests have turned to landscape and coastal scenes, often painting from life and always with a sketchbook to hand.
Membership:
Royal Institute of Painters in Watercolours,The Pastel Society, Royal Society of Painters in Oil, The Wapping Group and Chelsea Art Society. Elected Vice President of the Pastel Society 2011.
Exhibited:
RI, RWS, PS, RSMA, NEAC, ROI, RBA, RA Summer Show, RWEA, RP, Singer Friedlander/ Sunday Times.
Awards:
Royal Watercolour Society Abbott & Holder Award 2000, Pastel Society Annie Longley Award 2000, The Stanley Grimm Award 2002. Unison Pastel Award 2003, RI Llewellyn Alexander Award 2003, Daler Rowney Award 2004 & 2006, ROI Non-Member Painter Award in 1999 & 2005. ROI Cornelissen Prize 2009, Pastel Society Ranelagh Press Award 2010. The Bath Prize (Best Oil Painting) 2010. ROI Le Clerc Fowle Medal 2010. Unison Pastel Award 2011, Anthony J Lester Art Critic Award 2011 The Arts Club Award 2011. Honary Mention Award at the Easton Plein Air Competition USA. 2011 ROI, DAS Group Award for a work of distinction.
2013. Pastel Society Caran Dache Main Sponsors Award.
Collections:
Work in the collection of the University of Surrey.