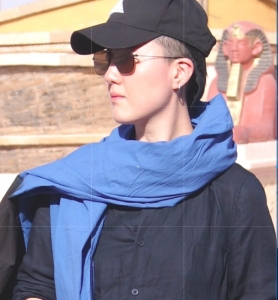 My artwork takes a critical view of human nature, identity and emotions to create visions of cruelty, conflict, and yet hope in the darkness.
Most of my paintings are figurative or portrait within a surreal setting, containing strong concepts of dreams, myths and religions. Although, from my own point of view, only colours and marks are the two important things that truly matter to my paintings. Watercolour is a unique medium that speaks to me and helps me to transform my sense of identity into the facial expression and body language of my subjects.
My primary goal is to paint out of my unconscious, allowing myself to freely follow the paintbrush during the process and enjoy any 'accident'. I believe in this 'organic' activity, rather than a 'rational' method. From my heart, when an artist finally finds a way to paint, it is also the time for him to throw it far away and try to start again. There is no method in painting, and one should do it without thinking and planning. It is the best for the artist to believe what he does, and try to let the painting does something to him. This might be a mystery after all.
I have deliberately employed both traditional and innovative techniques, and part of it came from my background in etching.
The ever-changing and gracious nature of life nourishes my imagination and presents all kinds of 'accidents' to influence the finished or unfinished works of mine. This gives me the opportunities of taking risks and to explore what I love and fear most.