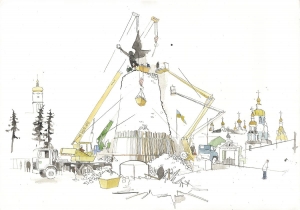 George Butler RI says, "This page is about 7 Ukrainians who I met last month. They have remained in their homes and towns playing the evil game of Russian artillery roulette.
Some have stayed because they are too frail, or without the means to leave, others have chosen to stay to contribute to the Ukrainian war effort. A testament to the human spirit in contrast to what the Russian soldiers have been doing to civilians in Bucha and Marioupol.
I will be producing a signed, limited edition print to raise £20000. The forst £4000 to be divided between the people below. I Then when the target is reached the additional funds will go to Vlad. (More on him in a moment).
If you'd like to donate, I'd like that very much. In return I will send you a signed print of this drawing.  If you can't afford a print any amount will do of course, I'll send you something from my studio anyway."
Statue of Nica, Kharkiv, a symbol of Independence. Being wrapped in 17000 sandbags to protect it from the Russian artillery.
Sergey, Olga, Larisa, Vova, Sergey and Tatiana don't know we are doing this, but I hope you will agree when you read their stories below that a small amount of money will go a long way in getting them back on their feet. It would certainly mean the world to them and it would show them that we, the world, are also equally outraged by what is happening there.
The costs of the first 20 A2 prints will be generously covered by George at DigitalArte in Deptford.  After that I will cover the costs.  Check him out here.
Volodymyr age 7 was shot in the head in the accident that killed his mother Daria, when a Ukrainian checkpoint opened fire on their car as they tried to escape to safety during the Russian bombardment of Kharkiv. He is learning to walk again in the hospital living with his father Stanislav and 3 year old brother Viktor.
Madame Olga survived the Great Famine, and then life as a Nazi slave in Dresden. Age 99 she is now too frail to get down the stairs when the air raid sirens go off and so waits on the top floor.  She says she is so worried about the situation in Kyiv that she forgets the words to describe how she feels.
Larisa is the headmistress of a school in North Saltivka, a place that has been heavily shelled by the Russians. Like the Captain of a ship she remained in her school to keep it open as a shelter for those that couldn't leave the area. The school has since been hit by an airstrike, the 20 people living their survived.
Sergey I met in hospital with a massive bandage round his head. He was in his house when it was bombed, and it collapsed around him. Never has the spirit of such a person shone through across a language barrier.
Tatiana had been caught in an explosion in Kharkiv and suffered minor trauma to her head. When I met her she opened her right eye and smiled.  But her shaved head and the other side of her face told a different story. A scar runs from her forehead to her cheek bone through her eye socket, and sadly, after two operations she has lost her left eye. This seemed disgustingly unfair even against all the other horrors of this war.
Sergey is 21 year old medical student.  He lives in the Metro in Kharkiv where he has decided he should stay to treat the 400 other people that have made their homes on the platform and in the train carriages.  He has set up his 'surgery' in a 8ft x 8ft rubbish room, where he treats anyone who needs his help. Which living underground is a great number of people. Unsurprisingly antibiotics are the item he is most short of.
Vlad was shot whilst delivering aid in his car near Kharkiv, the volunteer next to him was killed. From then on he has made it his mission to help more people. He runs a small volunteer organisation collecting and delivering aid to those in need in Kharkiv. His 35 strong network of young women and men deliver food to soup kitchens, pet food to dog owners and supplies to the schools and the elderly.  They feed 1500 people a day. It's small but its brilliant. His charity is registered in Kharkiv and called D.V.O. You can see their work on instagram @dvo.au