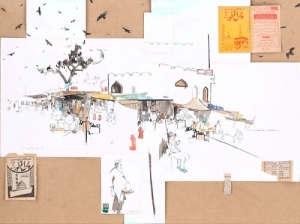 The 209th Exhibition of the Royal Institute of Painters in Water Colours will open at the Mall Galleries on April 1st 2021 until April 15th 2021.
Submission for Entry opens this week from Monday 16th November 12 noon and will close on Friday 5th February at 12 noon. Despite the challenges experienced in 2020, the RI are optimistic that the new show will build upon the continuing success that the society has experienced. After a four month delay, due to the pandemic, the RI's last show was one of the best in recent times showcasing over 400 watercolour paintings from artists in the UK and around the World. Half of these were contributed by non-members in line with the ethos of the RI established in 1831, to promote artists who are not affiliated to any 'Society'.
The new health and safety measures for the pandemic have required that submission and selection will be online only for the 2021 Exhibition. However, the RI Council are optimistic that this will encourage even more artists to send in their work. And of course the RI are hoping that some watercolour artists will be encouraged to apply for membership. In 2020 the RI were delighted to welcome three new members George Butler, Juliette Losq and Brian Smith, and look forward to seeing how their unique and diverse approaches to the medium add new dimensions to our future exhibitions.
With a prize fund of over £8,000 the RI open Exhibition traditionally attracts accomplished watercolourists from around the World and 2021 will be no exception. In these challenging times the RI will continue to rise to the challenge.
For full details on how to submit please visit:
https://www.mallgalleries.org.uk/call-for-entries/open-exhibitions
Image: 'Delhi Market', watercolour by George Butler RI, Winner of the £3,000 Winsor & Newton Award in 2020