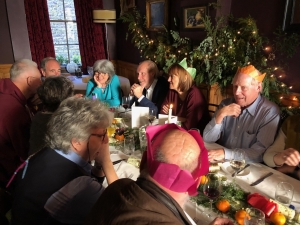 Despite problems with striking rail workers on South Western Trains, Members  and their partner's celebrated Christmas a little early this year. After a break of three years the annual Christmas lunch took place at a very nice Private Members club close to Trafalgar Square.
RI Vice President Robin Hazlewood and long time Member of the club made all the arrangements, festively decorated and complete with crackers. As well as the traditional roast there was a choice of meals on offer, prosecco and fine wines.
It was good to see so many artist members with Steven Alan Griffiths and his novelist wife, Rebecca making the trip from their home in North Wales and spending a few days in London.
It is hoped that this might be on the RI calendar for next year as well as the very popular 'Summer Gathering'.