ROSA SEPPLE PRI  
'A never-ending Journey'
ADRIAN HILL FINE ART ◦ LEES YARD ◦ HOLT ◦ NR25 6HS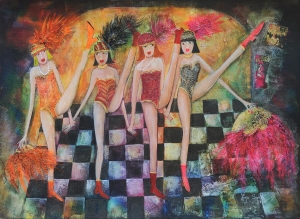 Rosa Sepple PRI – Show Girls – 22 x 30 inches – Mixed Media
Exhibition open: 21st – 25th September 2019
Daily 9am – 5pm (Sunday Closed)
An exhibition of brand new paintings by the President of the Royal Institute of Painters in Water Colours . Rosa Sepple is now in her third year as the President of The Royal Institute of Painters in Water Colours (PRI). Her reputation is being cemented as one of the most important watercolour painters in modern British art history.
Since the beginning of last year, following a further sell-out exhibition at Adrian Hill Fine Art in Norfolk in September 2018, Rosa Sepple has now embarked on a further journey into the realms of her magical fantasy paintings. This exciting new collection of original paintings has been assembled specifically for Adrian Hill Fine Art and celebrates her 2019 collection of original work.
Featured within the exhibition will be a portfolio of figurative subjects, dreamy landscapes and a small selection of earlier works too.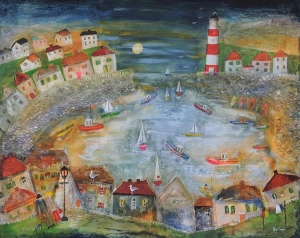 Rosa Sepple PRI – Harbour Master – 32 x 40 inches – Mixed Media