Steven Allan Griffiths RI's wife Rebecca describes his collection this year. She writes: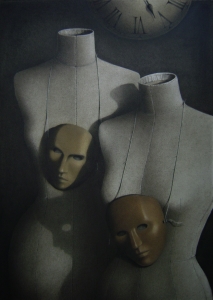 As a writer of psychological thrillers, Steven's paintings are a constant source of inspiration to me.His staging and depiction of inanimate objects resulting in dark, mysterious compositions, have the power to evoke such depth and atmosphere. In Steven's current series of work, he has once again returned to subjects which are representative of the human form. These forms are not merely used for visual effect, but are deeply ingrained into his psyche.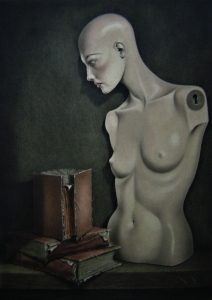 From his early childhood, Steven can vividly recall time spent in the workshop of his great-grandfather, who was a tailor, where he was sat amidst, as Steven says, "these silent people"; the mannequins that would look down on the four-year-old boy. Similarly, he remembers as vividly, the disembodied dolls strewn about the house, courtesy of growing up with an older sister — all of which fired his visual imaginings.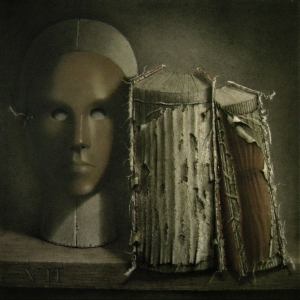 Later, at Art School, his inspirations lay primarily between Caravaggio and Magritte, and continue to do so today. As he always works from life, Steven's studio is like stepping into one of his paintings: stacks of old fraying books; heads of dolls; mannequins and masks; occupy shelves or stand ominously in the shadowy corners.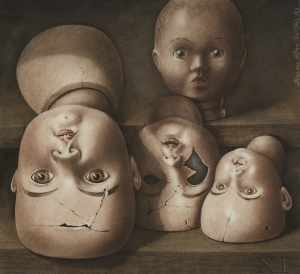 Dramatic, disturbing, atmospheric, are just some of the adjectives levelled at Steven's paintings, and he likes the fact that his work is open to individual interpretation, communicating whatever story the viewer wishes it to tell. So often asked for a meaning or metaphor, Steven might well answer, as ambiguous as ever: "They are objects observed before or after some indescribable event."
Images: L to R, 'Duplicity II', 'Impuissant', 'Semblance XI' and 'Ditorium IV'