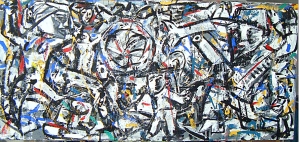 RI Member Ian Cook was delighted to be selected as one of the finalists for the VIA Arts Prize held in November 2017, that focuses on Ibero Americano studies.
The VIA Arts Prize is London's bespoke visual Ibero-American themed arts competition. It is organised by the Embassies of Latin America, Spain and Portugal and is hosted annually at the Embassy of Brazil in Trafalgar Square, London, in its impressive Sala Brasil gallery. This beautiful grade II listed building was once the P&O ticketing office, where it is said that tickets for the Titanic were sold.
The exhibition comprised thirty Latin American and British artists, including paintings, conceptual art, sculpture and photography.
Image: 'Revolucion', mixed media, H91cm x W193cm, by Ian Cook RI