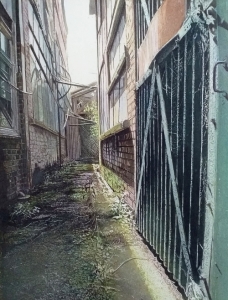 The winner of The Baohong Artists' Watercolour Paper Prize for a Non-Member is Juliette Losq for her painting 'Aisle'
Juliette says:
I depict marginal landscapes that spring up in the overlooked borderlands of cities and towns. These become sites of speculation on what might have gone before and what may be occurring out of sight.
I allude to the Picturesque and the Gothic of the eighteenth and nineteenth centuries, interweaving their motifs and devices with the marginal areas that I depict. I aim to evoke an uncertain world hovering at the edges of a symbolic 'Clearing', where wilderness and chaos oppose civilization and order, and in which beauty and neglect are interchangeable.
'Aisle' shows part of the semi-derelict boatyard on the Thames.  Compositionally, and through the depiction of light, the scene reminded me of certain Vermeer paintings.