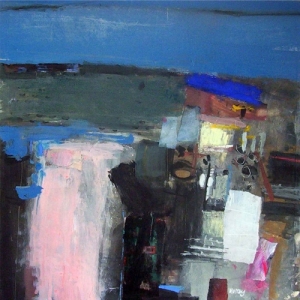 The winner of The Richard Plincke RI Prize for Colour is Paul Murray for his 'Winter Memorials'
Paul says:
Winter Memorials is a painting of a view of the surrounding landscape of the cemetery where my father is buried in Gourock just West of Glasgow. Although I say a painting, I see it more as a composition using gouache, collage and drawing.
The initial composition is developed from sketches of the shapes and textures of the gravestones and memorials. It is created through layers of brushwork, collage of patterned and pre-painted paper and mark making as they move between the abstract and the representational.
The objects and their negative space are only the starting point: I allow the textures and marks to dictate what happens next.