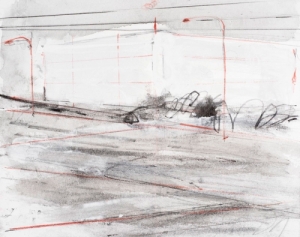 The winner of the Winsor & Newton Product Prize is Day Bowman for her painting 'Storage Facility'
Day says:
These are the post-industrial edge lands that fringe our cities and towns.
I have set out to investigate how and why we travel the landscape: through cities and suburbs; retail parks and parking lots; edge lands and endless motorways.
The paintings represent snapshots of journeys across such landscapes by train or car, bicycle and bus or ferry across a river; journeys that criss-cross the land and our daily lives which we absorb, acknowledge or ignore.