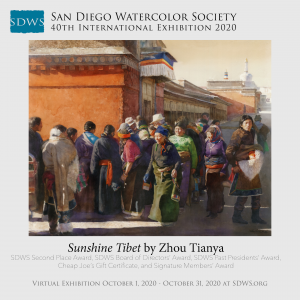 Tianya Zhou RI
has been awarded
Second Place
in the highly competitive
San Diego Watercolour Society's 40th International Exhibition in the USA
. His painting entitled, "Sunshine Tibet" was one of 100 selected from over 800 entries from 21 countries by nationally known juror Michael Reardon. The exhibition will be online only and will run from 1 – 31 October 2020.  Paintings can be both viewed and purchased online at www.sdws.org.
Tianya Zhou is a traditional watercolourist specialising in painting Portraits & Figures. He mainly paints the vanishing traditional Tibetan culture. His method of working involves many thin glazes of transparent paint, which gives a great sense of colour and depth.
About The San Diego Watercolour Society
The San Diego Watercolour Society, a 501(C)(3) non-profit organisation founded in 1965, is dedicated to expanding the appreciation of and involvement in water media painting through education, exhibition and promotion.
Image:"Sunshine Tibet", watercolour , 35 x 43in