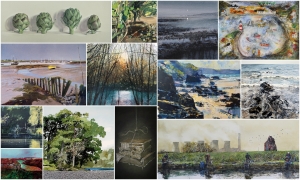 The sister gallery of Adrian Hill Fine Art in Holt, Norfolk, has been undergoing a transformation. Previously known as Picturecraft, newly refurbished, redesigned and re-named The Gallery, it opens on 20 September with an inaugural exhibition aptly titled Transformation. The exhibition will showcase watercolours by selected members of the Royal Institute of Painters in Water Colours, the Royal Watercolour Society and other leading British watercolour artists.
The Gallery and the Transformation exhibition will be formally opened by President of the RI Rosa Sepple on the evening of Friday 20 September and the exhibition will continue until 30 October, closing at 5pm on the final day.
Open times: Monday to Saturday, from 9am – 5pm, closed on Sundays
There will be 14 members of the RI taking part:  Lillias August, Martin Caulkin, Don Farrell, Chris Forsey, Steven Allan Griffiths, Robin Hazlewood, Tony Hunt, Chris Myers, David Parfitt, Bob Rudd, Rosa Sepple, Ian Sidaway, Naomi Tydeman and Deborah Walker.
Images: collages of some of the members paintings in the exhibition