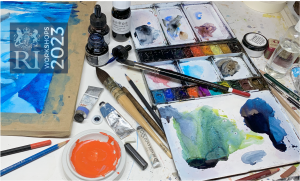 New RI Workshops planned for 2023
Despite the difficulties over the last couple of years the RI has continued working for the future.
Covid forced us to stop our programme of RI Workshops but we are currently planning a new
series for 2023.
The tutors will include RI Members, Chris Forsey, Claire Sparkes, Martha Zmpounou, Matthew
Phinn, Anne McCormack, Roger Dellar, Brian Smith and Gary Cook, whose range of expertise will
cover a huge range of styles and techniques of painting in water-based media.
The tuition will be suitable for students of different abilities and feature landscape still-life,
portraiture and plein air.
Dates will be announced later this year.
RI LONDON SKETCHERS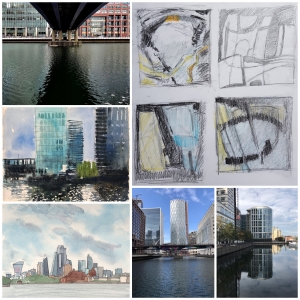 Come and join an informal sketching group led by Jean Noble RI SWA in the heart of London for artists who gather their information from 'seen' spaces and would like to do some 'plein air' sketching or water colour.  Meeting at 10.30am in Canary Wharf (once signed up you will be given exactly which café) the group sketch for the morning and meet again at 1.00pm for an hour for lunch with a show/discussion of sketches produced. Sketch again from 2-4pm with a further look at work over a cup of tea. All fairly informal and yet informative, as every artist will bring something different from which we will all learn. Other RI members may join in.
Dates: Thursday 14 July and Thursday 11 August
Time: 10.30 – 4.30
Cost: £10 for administration per day.
NB. To reserve your place on an RI London Sketchers day please email, mail@jeannoble.com giving Jean the date you wish to reserve.
Then make a payment to:
Bank: HSBC. Account Name: Royal Institute of Painters in Water Colours. Sort Code: 40-21-05. Account No: 41151525. Reference: RI Sketchers 2020 and your surname.
Spaces are limited to 12 artists per day. If you wish to pay by cheque please email Jean for address. Please bring your own materials, suitable outdoor wear and a small seat if you wish.
_________________