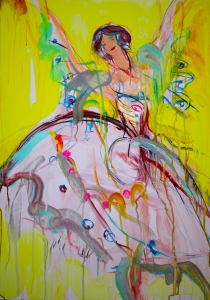 A portrait commission has been awarded to  Zi Ling RI for her bold, contemporary take on ballet pioneer and RAD founder, Dame Adeline Genée.
Artists from across the UK were asked to submit a portrait proposal of pioneering ballet dancer and founding RAD President, Dame Adeline Genée, to win a chance to create a final painting to be unveiled in he new home of the Royal Academy of Dance. Sponsored by historic dance shoemakers Freed of London, the competition was created to honour the legacy of Dame Adeline's extraordinary contribution to modern British ballet, ensuring that her portrait will be seen and admired by RAD staff, teachers, and dancers alike for generations to come.
A judging panel of singer song-writer Sophie Ellis-Bextor, royal portraitist Ralph Heimans, and Shevelle Dynott, former English National Ballet Dancer alongside RAD President, Dame Darcey Bussell, presented the winning commission to visual artist Zi Ling, an award-winning member of the Royal Institute of Painters in Watercolour. The judges were hugely impressed by the calibre of entries for the competition; however, it was Ling's proposal that really stood out in capturing the essence of Dame Adeline Genée with her bold, expressive, and contemporary interpretation.
Zi Ling said: "I am very excited about this wonderful project. As a painter, I specialise in portraits and figurative works – with my favourite subjects being dancers. The spirit of a dancer lies in their movements and rhythm, and I was inspired to paint Dame Adeline because of her distinctive mark on our history and society. In order to capture her beauty as well as her talent, the final portrait will be created in a water-based and pastel medium as a tribute to Degas and his famous ballet dancer paintings".