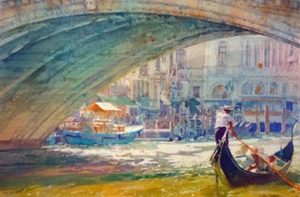 Geoffrey Wynne RI will be leading a workshop titled 'Space, Light and Contrast' at the ArtsBox in Vicenza in March this year. The main objective of the workshop will be to create space, light and contrast with intense watercolours, to search for solutions for the various themes he has chosen. Geoffrey will explore 3-4 topics, using a four-tone system. He will paint wet on dry and wet into wet, mixing colours on the paper until a solution has been reached.
Dates: 6-8 March 2020
Venue: The ArtsBox – Contra San Paolo, 23 – 36100 Vicenza.
For more information on the workshop and necessary materials please contact: info@theartsbox.com