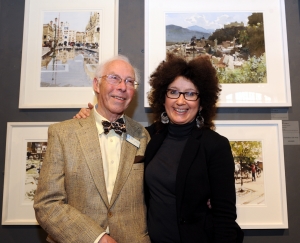 19-20 OCTOBER 2019 
AN EXHIBITION AND A DEMONSTRATION OF WATERCOLOUR  by John Yardley
On 19 October, at 6.00 pm, at the TheArtsBox in Vicenza, an exhibition by John Yardley RI: JOHN YARDLEY: A LIFE IN WATERCOLOUR will open to the public. This is an exhibition of watercolours in collaboration with RI (Royal Institute of Painters in Watercolour, London) on the occasion of the first edition of TheArtsBox Solo Prize (2018). John Yardley RI is recognised as one of the great masters of his generation. Born in Beverley, Yorkshire, he began painting in 1986, after a career in banking. The absence of formal education allowed him to create a style of absolute creative freedom that masterfully captures the vitality of a scene and its movement. John Yardley is a member of RI and he also exhibits regularly at the Royal Watercolour Society where he has won several awards. He travels a lot in Europe, and various places in the world have inspired him  to paint wonderful studies, in cities such as those of Venice and Rome. He has been the subject of some documentaries on watercolour, and on his work three books have been written, including: The Art of John Yardley (1990). The day after the opening of his exhibition, the artist will perform a demonstration in the space of TheArtsBox, for a limited number of associates.
On 20 October at 10 am, John will give a public watercolour demonstration at the TheArtsBox, for a small number of participants. He will illustrate the various phases, techniques and choices behind his paintings, both painting and commenting on some elements that have made his art a recognisable stage in the English watercolour community of the last 50 years. There will be a consecutive translation from English into Italian. An aperitif will follow with the artist and all the participants.
Image: John being congratulated by Isabella Rizzato of The ArtsBox at the Annual RI Exhibition 2018