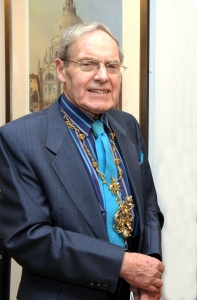 It is with much sadness and deep regret that we have to tell you that our Past President Ronald Maddox passed away on 14 November 2018.
Ronald Maddox was born in Purley, Surrey, in 1930. He studied art at St Albans School of Arts and Hertfordshire College of Art and Design from 1945. He was a designer and artist in the Air Ministry Design Unit with the Royal Air Force during his National Service. He subsequently continued with his studies from 1950 to 1956 at the London College of Printing and Graphic Art and Regents Street Polytechnic School of Art and gained designer experience with the British Overseas Airways Corporation (BOAC).
In 1962 Ronald became a freelance artist, consultant, designer and illustrator undertaking numerous important commissions, notably in 1974 completing line drawings of the Royal Festival Hall, Queen Elizabeth Hall, Purcell Room, Royal Naval College and Queen's House, Greenwich, and Mansion House, City of London. The original drawings are held in the public collection at the Tate Gallery, London.
Ronald became a Member of the RI in the early 1960's serving on the Council before being elected Membership Secretary in 1974. In 1979 he became Vice President, holding this post until becoming the fourteenth President in 1989, a position he held for 25 years until 2014, making him one of the longest serving Presidents in the history of British Societies and Institutions. Ronald voluntarily gave his time, expertise and organising skills to the furtherance of the RI. Apart from being the figurehead, Ronald endeavoured to promote and engage the Institution in new challenges. He pursued the getting together of the two Royal Watercolour societies, the RI and the RWS (Royal Watercolour Society) and in 2009 they held their first joint exhibition in 178 years.
Ronald was an Honorary Member of the Royal Watercolour Society (RWS), the Royal Society of British Artists (RBA), the Pastel Society (PS) and was also a Fellow of the Chartered Society of Designers (CSD). After many years as Honorary Secretary of the Artist's General Benevolent Institution, he was made Chairman in 2010.
Ronald won numerous awards for his paintings including at the RI, the 'Rowland Hilder Award' for the Most Outstanding Landscape in 1990 and the 'Winsor & Newton Members' Award' for the Most Outstanding Group of Watercolours in 1981 and 2000. He was a Watercolour Finalist in the Hunting Group Awards, 1980, 1981 and 1983.
Ronald's paintings have been exhibited worldwide and have featured in many society and institute exhibitions including Royal Academy Summer Exhibitions, the Royal Society of Marine Artists, The New English Art Club and the Royal West of England Academy. Ronald's work as an illustrator working for Royal Mail, British Rail, the Countryside Commission, the British Tourist Authority, British Waterways, British Gas, British Telecom,the BBC, ITV and Channel Four is seen as outstanding and has made a major contribution to our national heritage. Much of his work is collected and is known for contributing to our national graphic identity over the last sixty years.
Ronald was a quiet and unassuming man, who was passionate about watercolour and the RI and his calm and reflective paintings will be sorely missed from our annual exhibitions. Our condolences go to Ronald's wife Diana and their extended family.