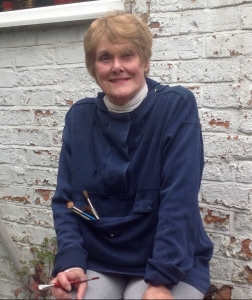 It is with much sadness and deep regret that we have to tell you that our Archivist Sandra Walker RI passed away peacefully on 23 August 2018 after a short illness.
Sandra was a native American who trained at the Corcoran School of Art in Washington DC, though she made her home in England. Internationally renowned as one of the finest photo-realist water colourists, Sandra travelled the world seeking subjects to photograph, which would ultimately be turned into stunningly intricate and realistic compositions. According to Sandra, ageing paint, crumbling brick and reminders of the cleverness, elegance and daring of man-made structures were her main inspirations. She was drawn to the street sounds and structures that constitute a city. 
Sandra Walker's watercolours are represented in numerous public and private collections and embassies throughout the world. Her work is included in the collections of Senator Edward M. Kennedy, Senator George McGovern, author John LeCarré, former British Prime Minister Margaret Thatcher and many others. She won many international competitions, including the Singer and Friedlander/Sunday Times Watercolour Competition and the Grand Prix at the Tregastal Salon International de la Peinture á L Eau in France. While living in America, she was commissioned by the United States Mint to design a Congressional medal honouring Simon Wiesenthal. Sandra was also commissioned by Prime Minister Thatcher to paint the Houses of Parliament. She had solo shows in India, Sri Lanka, Egypt, France, Italy and Mongolia. In 1999, Sandra was elected a member of the Royal Institute of Painters in Water Colours. She became a long standing member of the Council and elected to an officer's post, as Archivist in 2004.
Sandra's enthusiasm, her stunning paintings and her many years of service for the RI will be sorely missed by us all, but possibly most of all we will miss her wit, her charm, her wicked sense of humour and infectious laugh. Our condolences go to her daughter Jessica and extended family.